Lyme Regis Fossil Festival 2012
Published on 8th May, 2012
in
Event
.
Jurassic Coast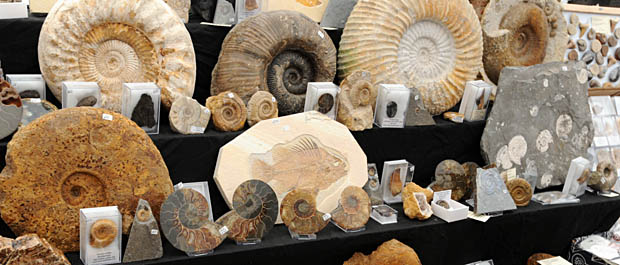 The 2012 Lyme Regis Fossil Festival turned out to be the biggest one yet. With top palaeontologists and earth scientists from around the globe, the festival was THE place to be for fans of the Jurassic era.
Making a special appearance this year was Horace the 32ft long Jurassic Sea Lizard and pliosaur cinema. The puppet had moving parts that children could try their hand at operating and inside of him they could watch a short film about his life under the seas. The tale was told by evil Prof Humphrieson who examines Horace's gastric juices to encounter fascinating marine creatures such as pleiosaurs and ichthyosaurs which would have made up his diet.
Marine Parade was transformed into Lyme Regis International Airport where a departure lounge was erected for Jurassic Airlines. 'Passengers' could watch a 15 minute virtual flight along the Jurassic coastline as it was 185 million years ago. Dubbed 'Charles De Gull Airport' by locals, the airport showed films every 20 minutes.
Also making an appearance at the festival was one of the wind catchers from Battle of the Winds' (part of the Maritime Mix Cultural Olympiad by the Sea). The wind catcher was in desperate need of all the wind that the people of Lyme Regis could produce, to help the Olympic sailing team in their bid for gold. They were locked in battle with the evil Doldrum who may steal the wind at any moment. Plenty of onlookers were enlisted to help and they eagerly gave 'donations' of wind captured in balloons.
A huge tent full of fossils and fossil-related fun was set up on the beach and there was plenty to do, from sieving for shark teeth to making your own dinosaur tracks. inside the tent were scientists from the Natural History Museum
Also part of the festival was stone balancer Adrian Gray. He is able to balance stones at seemingly improbable angles – so much so that people passing the display were convinced they had been stuck down until they saw Adrian move them.
With fossil walks, rock pooling and more, the event was good fun for all the family.
Photos of Lyme Regis Fossil Festival