Maritime Mix – London 2012 Cultural Olympiad by the Sea
Published on 18th March, 2012
in
Event
Animating Weymouth, Portland and the Jurassic Coast, the Maritime Mix – London 2012 Cultural Olympiad by the Sea will deliver the complete Olympic experience with over 80 inspirational events from 9th March to 9th September. The unique creative celebration will include World class outdoor theatre, circus, visual arts, earth science and art, sound installations, open-air mass choral performances, multi-media arts festivals, panoramic video projections, participative music, dance and street celebrations.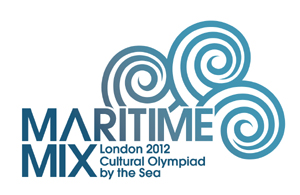 The programme will help promote the Dorset as a cultural destination and encourage future investment. It will also bring the arts to new audiences and inspire more people to get involved putting local artists on an international stage and generating new partnerships and collaborations. Many local residents will be participating in events such as Coastal Voices, b-side, Inside Out, Battle for the Winds, Chalk Legends, The Giant Wall, Dinosaurs Not Allowed and Moving Tides.
Over 95% of the events are free to access there and will be something for everyone.
The opening of the London 2012 Olympic & Paralympic sailing will be celebrated with a three day mass celebration on Weymouth Beach. This will include; Battle for the Winds (26th July – 28th July) an epic outdoor, theatrical performance from Cirque Bijou and Desperate Men; Coastal Voices (27th July), community choirs present new musical compositions from John Surman, Sonia Slaney, John.K.Miles, Billy Bragg and Marc Yeats, The Welcome Songs (27th July) choirs sing Eliza McCarthy's new musical composition and Breathe (28th July), international and national disabled and non-disabled artists presentation of the concluding part of Battle for the Winds.
For the full programme visit www.maritimemix2012.co.uk