Diamond Jubilee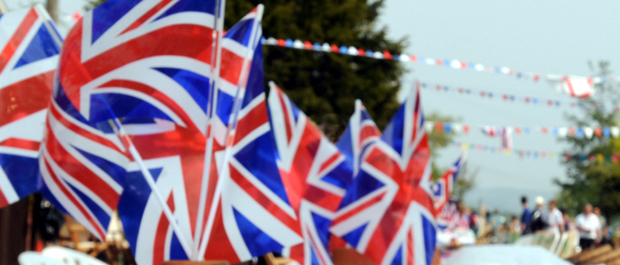 The people of Dorset will be celebrating the Queen's Diamond Jubilee with concerts, street parties, fireworks, a sail past in Weymouth Bay, and burning beacons. Most events occurred on the weekend 2nd-5th June.
Jubilee Gala Performance in Weymouth
To kick start Jubilee Week, talented youngsters from Weymouth, Dorchester, Portland and Bridport presented a Jubilee Gala Performance at the Weymouth Pavilion on Saturday 2nd June.
This celebration of the Queen's Diamond Jubilee was also a celebration of young people and the performing arts, from the littlest fairies to those on the verge of professional training. There was musical theatre, drama, singing and all sorts of dance – something for everyone's taste.
Jubilee Beacons
On 4th June, Jubilee Beacons were lit at Larksmead Recreation Ground, Blandford Forum and Okeford Hill.
Fireworks
There was a Queens Diamond Jubilee Celebrations fireworks display in Weymouth Bay on 4th June.
Patriotic knitting event
Swanage Pier and The Yarn Academy Swanage plan to host a knitting-extravaganza.  Knitters will be working on the pier in public view, making red white and blue bunting which will decorate the pier. This event is also part of National Knit in Public Weekend 9-10 June.
Big Lunch events
To tie in with the national Big Lunch, a Jubilee Big Lunch Party, with entertainment, took place in Howards Lane car park, Wareham on 4th June. There was a DJ and stage and music from the Coronation era from 40s into the 60s.
On Sunday 3rd June there was a picnic lunch on the village green in Stratton.
Parades
Lyme Regis held a civic parade and march past on Saturday 2nd June  from Langmoor Gardens to Marine Parade followed by a Loyal Address on the Marine Parade. There was a Marching Display and Concert on the Marine Parade in the afternoon.
Street parties
Street parties were held across the county.
Tree planting
Gillingham Town Council is planning to plant Jubilee Trees on land in Peacemarsh
Queen visits Sherborne
Ahead of the four day celebrations, The Queen and Prince Philip visited Sherborne and its Abbey on 1st May. This formed part  of the South West leg of the Queen's Diamond Jubilee tour. She last visited Sherborne  in 1998 to see the dedication of the great west window and was last seen in Dorset in 2009 where she attracted huge crowds for her visit to Weymouth and Bovington.
BSO concert
Bournemouth Symphony Orchestera, conducted by Rui Pinheiro, held A Diamond Jubilee concert at Bournemouth Pavilion on 21st April. Works performed included Purcell: Trumpet Voluntary, Handel:Music for the Royal Fireworks, Mozart: Piano Concerto K357 "Coronation", Walton: Crown Imperial March, Grainger: Handel in the Strand, Wood: Fantasia on British Sea Songs, Elgar: Pomp & Circumstance March No.4 and Elgar: Pomp & Circumstance March No.1. These pieces of music have been used for many coronations and state ceremonies.
Bid for city status
Two towns in Dorset  hoped to be chosen for an upgrade to city status in a competition to mark the Diamond Jubilee. Bournemouth and Dorchester both did their best to earn the new status but they were competing against 23 other towns from around the UK. In the end, Chelmsford, Perth and St Asaph were selected.