Pommery Dorset Seafood Festival 2014
Published on 31st March, 2014
in
Weymouth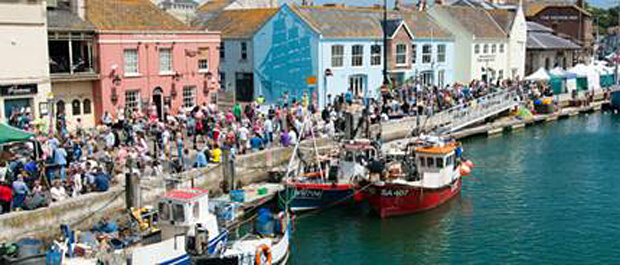 If you love seafood you will love this spectacular event which takes place on Weymouth's 17th century Old Harbour on the 12th and 13th July this year.
In an average year over 50,000 seafood lovers come to enjoy the two day heady mix of delicious seafood and champagne. With about 100 stands, many selling succulent seafood and associated goods, the award winning Pommery Dorset Seafood Festival is not to be missed.
The chef and expert line up includes Passionate About Fish Guru – Duncan Lucas, award winning Chef Director of Home Grown Hotels, James Golding, Great British BBQ Champion – Ben Barlett, The Dining Room's Taher Jibet, John Wright from River Cottage, Masterchef winner and Chef Patron of The Casterbridge – Mat Follas, Dorset's Michelin chef from Sienna – Russell Brown and award winning chef patron, Nigel Bloxham from The Crab House Cafe. Experts and fishermen from all over the South West are joining together to bring you a memorable and delicious Festival this July. All smoothly commentated on by broadcaster, Neil Phillips, AKA 'The Wine Tipster'.
The Pommery Dorset Seafood Festival brings together champagne and seafood, family entertainment and a great opportunity to gain a better understanding of the superb seafood available to us just off our wonderful shores.
Here's just a flavour of what to expect:-
Enjoy Pommery Champagne with fresh oysters
Taste different seafood dishes on offer from almost 100 stalls
Watch live cooking demonstrations from the region's best loved chefs
Sip Ara Wines from New Zealand whilst soaking up the atmosphere
Learn how to fillet a fish like a pro!
Discover 'How to' in the Seafish Pavilion
Learn to love a whelk (a little bit of 'Made in Chelsea' meets Heston)
Treat yourself to a Pommery Picnic Hamper
Relax with a pint of Piddle Beer whilst listening to our live music programme
There's fun and entertainment for families with face painting, trails and crabbing and find out more about lobsters with the National Lobster Hatchery
The Fish is the Star!
Research shows that our eating habits are already formed by the age of five, so get the kids involved in our new Seafish 'Have a go' arena, where you can try your hand at lobster and whelk picking or simply how to fillet a fish. Our favourite 'Passionate about Fish' experts Duncan and Sue Lucas will be on hand to talk you through the 'day catch' from the Dorset waters, whilst Chef Taher Jibet will be heading up our #whelkrevival. There is a fantastic supply of whelks just off our shores – try one, specially warmed up with a dash of Tabasco.
Meet local fishermen and find out where to get the best fish, with Nigel Bloxham from the Crab House Cafe helping us to demystify the latest information on sustainable species. As well as offering great flavours and tonnes of variety, seafood will help to keep us in good health.
Here are just some of the fishes and dishes that will be staring at the Pommery Dorset Seafood Festival this year: whelks, bass, lobsters, oysters, cockles, razor clams, crabs …
A Sample of the mouth watering dishes available from the stands:
Sushi featuring smoke mackerel from Chesil Smokery in Bridport, Whitebait with lemon mayo. Crab and Sweetcorn spring rolls, Hand dived West Bay Scallops, Crab stir fry, Mackerel baps, Sea Bass fillets with Salsa, Crab sarnies, Thai style fishcakes made with local fish, Hot potted crab, Dorset Shellfish, Fish salads, Fillet of Coley baps, Lobster Bisque, handpicked Portland Crab crustini, Lyme Bay hand dived scallops kebabs, Fish dogs, BBQ Oysters and Mussles, deep fried Hake and Pollock, grilled sardines and much much more!
Sponsors also include ARA Wines, Weird Fish Clothing, Piddle Brewery and Seafish. And the festival's title sponsor Champagne Pommery will make sure that their full range of champagnes will be flowing all weekend, ready to be enjoyed with its' perfect partner – freshly cooked seafood.
With the emphasis on responsibly sourced seafood from the region where possible, the Pommery Dorset Seafood Festival helps raise money for the Fishermen's Mission charity.
Stay for the weekend and take in the sights and experiences of Weymouth, then dine out in one of the local restaurants. Travel to Weymouth is easy via South West Trains or park and ride at the Mount Pleasant car park just out of town.
Opening Times: Saturday 12th July: 10.30am – 6pm Sunday 13th July: 11am – 5.30 pm