Camp Bestival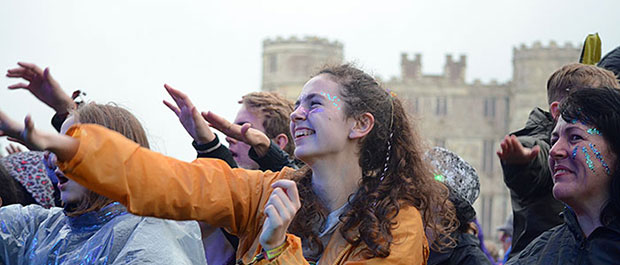 Camp Bestival is a multi-award winning family festival held in the majestic grounds of Lulworth Castle.
The music line-up is curated by renowned music specialist Rob da Bank. He said: "I started the Sunday Best label off the back of my Sunday Best club night and Bestival and then Camp Bestival was borne out of all those things, so I owe my record label hobby a lot!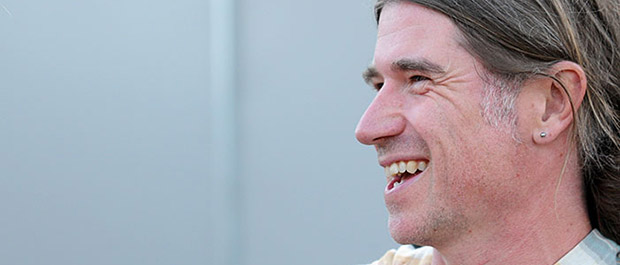 Camp Bestival 2020 – Lulworth Castle from the July 30– August 2 2020.
Winner of 'Best Family Festival' at UK Festival Awards 2019, this year's Movies themed Camp Bestival promises a weekend like no-other to kick off the summer holidays. Camp Bestival curators Josie and Rob da Bank say: "We can't think of a style of music that isn't on the bill this year – from rave to grime, classical to pop, guitars and reggae. From the original party-starter Fatboy Sim and indie royalty Friendly Fires through pop stars Liam Payne and Becky Hill to Groove Armada and a special Sophie Ellis-Bextor show with Sink The Pink, not forgetting our new and breaking acts like Georgia, Biig Piig and Self Esteem. It's not just about music – it's all going off from CBeebies to skate ramps, an outdoor cinema, tree climbing, Wild Tribe screen-free adventures into nature, yoga, meditation and explosive science shows! Get ready for Camp Bestival 2020!"
As well as Fatboy Slim bringing the party on Saturday along with special guests Friendly Fires, Friday night welcomes pop superstar Liam Payne, while Sunday sees a Superstylin' live set from Groove Armada. Other smash-hit stars taking to the stage include Becky Hill and rising star, Georgia, pop royalty Sophie Ellis-Bextor, radio legends Sara Cox and Jo Whiley, as well asYouTube sensations and 2019 X Factor Finalists, Max & Harvey.
CASTLE STAGE HEADLINERS:
FATBOY SLIM / GROOVE ARMADA / LIAM PAYNE
AND SPECIAL GUESTS: FRIENDLY FIRES
MORE MAGICAL SHOWS, TALKS & PERFORMANCES FROM:
BECKY HILL / IRVINE WELSH / ADAM KAY / SARA COX /
DAVID RODIGAN / DICK & DOM / BRAINIAC LIVE / GEORGIA /
SOPHIE ELLIS-BEXTOR FT SINK THE PINK / ALL HAIL KALE /
NORMAN JAY / MAX & HARVEY / MISTER MAKER & REBECCA /
JO WHILEY'S 90S ANTHEMS / THE SHERLOCKS /
THE SUGARHILL GANG – FURIOUS 5 FT GRANDMASTER MELLE MEL & SCORPIO
EXPECT MORE MUSIC FROM:
HEATHER SMALL / LEVEL 42 / JAGUAR SKILLS / REEF / SPACE / BIIG PIIG / THE SELECTOR / SELF ESTEEM / S CLUB PARTY / THE CUBAN BROTHERS / BRU-C / TIM BURGESS / DUB PISTOLS / THE WURZELS / LTJ BUKEM / STEVE DAVIS & KAVUS TORABI / PLASTIC MERMAIDS / LONDON GARAGE ORCHESTRA / DECO / KLAUS BLATTER / GENGAHR / BRASS RAVE UNIT / THRILL COLLINS / MR B THE GENTLEMAN RHYMER / ADAMSKI / MASTER PEACE / GLOWIE / LAVENGRO / HOLY MOLY & THE CRACKERS / EASY STRIDE BAND / FFION REBECCA / GREEK TRAGEDIES / KRAFTY KUTS / SHEPDOG / PURPLE RAVE (ROB DA BANK & TAYO) GOLDIEROCKS / WRONGTOM / ENDOR / IRAINA MANCINI / CLUB DE FROMAGE / BOWIE DISCO / DEPTFORD NORTHERN SOUL CLUB / BOOGALOO STU DJ SET / WARM RESIDENTS / MARCO GIANNINI YACHT ROCK PARTY / DJ GETBACKTOTHEBEAT / JIM8TRACK / PERRI KAYE / FOAMA
MORE FAMILY SHOWS & KIDS ENTERTAINMENT INCLUDING:
SAM & MARK / MR TUMBLE / THEDADLAB / MR MOTIVATOR / BOOGIE STORM / BRIT SCHOOL PRESENTS / STAGECOACH WORKSHOPS / JUNIOR JUNGLE / BIG FISH LITTLE FISH / FLY-KID / SAMSAMBUBBLEMAN / BLOCKBUSTER FACTORY / AARDMAN'S AMAZING SCENE MACHINE / INSECT CIRCUS / WORLD'S BIGGEST BOUNCY CASTLE / CIRQUE BIJOU / BIGTOPMANIA KIDS THEATRE / WILD TREE CLIMBING / TREE CANOPY WALKS / ART TOWN / SCIENCE TENT / FUNKY LITTLE CHOIR / SIGNING HANDS
MEET & GREETS FOR LITTLE ONES WITH:
TROLLS: POPPY & BRANCH / MINIONS: BOB & STUART / PAW PATROL: CHASE
COMEDY:
ADAM KAY / SCUMMY MUMMIES / TIMMY MALLETT / BLINGO: HIP HOP BINGO / MUCH ADO ABOUT BINGO
CAMP BESTIVAL GOES TO THE MOVIES WITH:
FULL MOON CINEMA / SON ET LUMIERE FIREWORKS FINALE /
CIRQUE BIJOU'S HIGH WIRE SPECTACULAR / DJ YODA PRESENTS FILMSTOCK
PINK FLAMINGO EVENING CABARET:
CHERYL HOLE / MADAME GALINA AND HER ONLY FRIEND(S) / WITT 'N' CAMP
FOOD AND DRINKS:
NEIL RANKIN / DJ BBQ / ALL HAIL KALE PRESENTS 'HYPCONDRIA LIVE' / OMARI MCQUEEN – HOW TO BE A VEGAN ENTREPRENEUR / CHRISTO – THE VEGAN BUILDER / THE FEAST COLLECTIVE WITH LIVE FIRE DEMOS / MOTHER EARTH'S OPEN KITCHEN / WOMEN'S INSTITUTE TEA TENT / FIZZ BAR
WELLNESS AND FITNESS AT SLOW MOTION:
HOLISTIC TRIATHLON / YOGA & MEDITATION / BREATH WORKSHOPS / SOUND HEALING / GONG BATHS / AURVEDIC WORKSHOPS / SLEEP RETREAT / MASSAGE & THERAPIES / RICHIE BOSTOCK FIT CAMP INCLUDING WILD RUNS, HIIT & FAMILY BOXING / WILL WILLIAMS & THE BEEJA EXPERIENCE
WILD TRIBE:
THE BIG BUILD / SPINNEY HOLLOW CRAFT VILLAGE / WATER SLIDES & ZIP LINES / HORTISCULPTURE / MOSSY CROW / YOUTH STRIKE 4 CLIMATE MOVEMENT / BUSHCRAFT & BIVOUAC BUILDING /
INTERACTIVE THEATRE / DRUMMING CIRCLES / CAMPFIRES & CALM SPACES
LITERARY:
IRVINE WELSH / MAN VS. BABY / MY TUTU WENT AWOL / KATIE ABEY / KATE PANKHURST / JO SIMMONS / HELEN SKELTON /ANNA MCNUFF / DR MARYHAN / JOHN HARRIS / ANNA JAMES / TOM MITCHELL /
THE MOUTH OF MANLINESS
Camp Bestival 2019
The theme was superheroes and heroines.
View photos of Camp Bestival 2019
CASTLE STAGE:
JESS GLYNNE / THE HUMAN LEAGUE / NILE RODGERS & CHIC / ANNIE MAC/ SISTER SLEDGE / THE WAILERS / BIG SHAQ / SARA COX / GOLDIE/ VENGABOYS / ASH / DAVID RODIGAN / GREG WILSON /MELANIE C'S 90's MIXTAPE / RAK-SU / MORCHEEBA/ RICK WITTER & PAUL BANKS (SHED SEVEN ACOUSTIC)
WITH MORE MUSIC FROM:
GRANDMASTER FLASH / BLACK GRAPE / EARACHE TAKEOVER: NAPALM DEATH/ PHIL CAMPBELL AND THE BASTARD SONS / DIAMOND HEAD/ LAWNMOWER DETH / LEWIS CAPALDI /NINA NESBITT / EAST 17 / THE CUBAN BROTHERS / HOUSE GOSPEL CHOIR / THE CORRESPONDENTS/ GOLDIE LOOKIN CHAIN LEGENDS SET / MR MOTIVATOR / HOUSE GOSPEL CHOIR / BEANS ON TOAST /STANTON WARRIORS (LIVE) / ELVANA: ELVIS FRONTED NIRVANA / HENGE / FOUR OF DIAMONDS /JUNIOR JUNGLE / BROKEN BRASS ENSEMBLE / A GUY CALLED GERALD/ DJ YODA / A SKILLZ / VIC REEVES / UTAH SAINTS / CLINT BOON / DUB PISTOLS (DJ SET) /GHETTO FUNK ALLSTARS / ROB DA BANK / DR DJ / PURPLE RAVE (PRINCE TRIBUTE)
HOSTS:
MELANIE C / BIG SHAQ / SARA COX / SAM & MARK (CBBC/ GOLDIEROCKS)
FAMILY SHOWS & KIDS ENTERTAINMENT INCLUDING: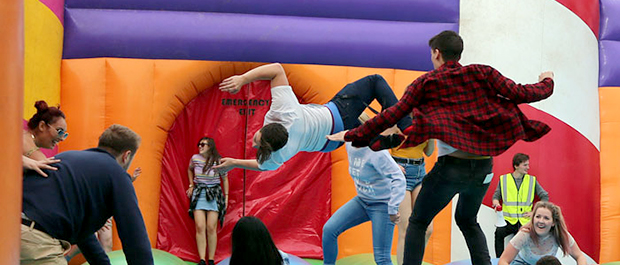 MAX & HARVEY LIVE SET AND Q&A / BIG FISH LITTLE FISH / FATHER OF DAUGHTERS VS MOTHER OF DAUGHTERS / MISCHIEF AND MYSTERY IN MOOMINVILLE / MISTER MAKER & THE SHAPES / MR BLOOM AND HIS BAND / AARDMAN ANIMATIONS PRESENT: SHAUN THE SHEEP'S VEGETABLE ORCHESTRA, AARDMAN MODEL MAKING WORKSHOPS AND 30TH ANNIVERSARY OF WALLACE & GROMIT / CBEEBIES BEDTIME STORY TENT / MEET AND GREETS WITH WALLACE & GROMIT, PJ MASKS AND THE GRUFFALO / ROALD DAHL AND THE WURBLE GOBBLER / CIRQUE BIJOU / GORILLA CIRCUS / SLIME TENT/ SCIENCE TENT/ ART TOWN / SCOOTATHLON / FAMILY RAVES / SILENT DISCOS / WORLD'S BIGGEST BOUNCY CASTLE / BESTIVAL INFLATABLE CHURCH
COMEDY & WORDS:
LITERARY INSTITUTE / SONIC YOUTH CLUB / THE PARENTING PROGRAMME / TEEN DEBATING SOCIETY
FOOD AND DRINKS:
DJ BBQ'S WORLD OF MEATS AND BEATS / AVANT GARDE VEGAN / THE FEAST COLLECTIVE / ROB & JOSIE'S GIN
FESTIVAL / DORSET FARMERS' MARKET / WOMEN'S INSTITUTE TEA TENT
WELLNESS AND FITNESS:
CAMP BESTI TRIATHLON / SPIINBOX-SPINNING DISCOS / KIDS' CAMPSITE RUNS / SUPERHERO SPORTS DAY/ YOGA & MEDITATION / JURASSIC HIKES / BREATH WORKSHOPS
WILD TRIBE:
THE BIG BURN / BUSHCRAFT AND WILD PLAY / SPINNEY HOLLOW / MUD SLIDES AND MUD KITCHEN/ DRUMMING CIRCLES / SWEAT LODGE / FIREPITS
Camp Bestival 2018
View photos of Camp Bestival 2018
The theme was Camp Bestival Sets Sail!
FEATURING CASTLE STAGE HEADLINERS:
RICK ASTLEY / CLEAN BANDIT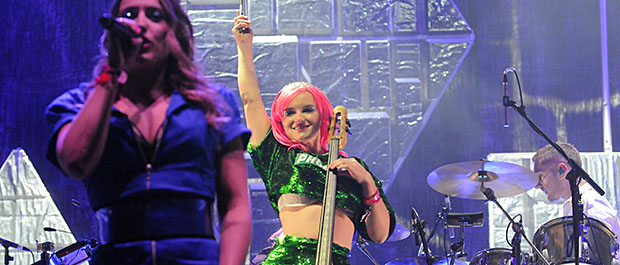 AND BIG TOP HEADLINERS:
ORBITAL / BASEMENT JAXX (DJ SET)
WITH MORE MUSIC FROM:
SARA COX PRESENTS JUST CAN'T GET ENOUGH 80s / DECLAN MCKENNA / DODIE / THE SKATALITES / JAGUAR SKILLS / THE CUBAN BROTHERS PRESENTS LA FAMILIA / FEARNE COTTON (DJ SET) / HUEY MORGAN'S NYC BLOCK PARTY / STEREO MCs / THE UNDERTONES / POP WILL EAT ITSELF / JANE WEAVER / JESUS JONES / BILLY DANIEL BUNTER & RAINDANCE/ ELVANA: ELVIS FRONTED NIRVANA / CHRIS WOOD / BIG FISH LITTLE FISH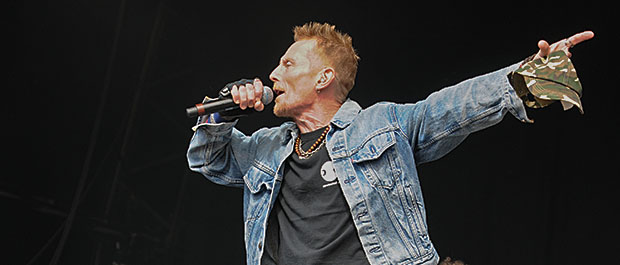 FAMILY SHOWS & ENTERTAINMENT INCLUDING:
MR TUMBLE / DICK & DOM/ DINOSAUR WORLD LIVE / BALLET WITH MATTHEW BOURNE'S NEW ADVENTURES/ PIRATES OF PENZANCE – THE MUSICAL/ ROYAL ALBERT HALL'S SEAFARING SYMPHONY & WORKSHOPS/ THE RETURN OF 'COME DANCING' IN SPIEGELTENT WITH KAREN HARDY STUDIOS/ UNDERWATER CARNIVAL NIGHT PARADE/ SAILING TALKS WITH HIGH SEAS ADVENTURERS / PIRATE BEDTIME STORIES/ THE WORLD OF SUPERSAURS / NOW THAT'S WHAT I CALL SEA SHANTIES
Charity support:
For the first time this year, a £1 charity donation was added on to all Camp Bestival tickets, which went directly to theEllen MacArthur Cancer Trust (Reg. Charity no. 4597114). This money will be used to fund their amazing work that helps young people rebuild their confidence after being diagnosed with cancer.
Because of high winds and rain, the festival did not open for the final day.
Camp Bestival 2017 – 10th birthday bash
View pictures of Camp Bestival 2017
What a weekend! Camp Bestival's 10th birthday had it all. It was typically British summer weather with a bit of everything but that didn't stop anyone from having four joyful days of festi-holiday fun and song, filled with comedy, theatre, shows, attractions, activities, poets, talks and delicious food.
Rob da Bank says: "Wow, what a crazy weekend… it was such an inspiring sight seeing everyone having so much fun despite the odd shower or three. We thank you from the bottom of our hearts for coming to Camp x".
With crowd-smashing headline performances from Mark Ronson, Madness, and Brian Wilson, and amazing sets from Leftfield, Holly Johnson, All Saints, Anne-Marie, Louise Johnson, Ray BLK, Kate Nash, Becky Hill, Skream, David Rodigan, School of Rock – The Musical, Louis Berry, Big Fish Little Fish, Raindance and so many more, the crowds never stopped boogying. Add in all the fabulous antics for all ages and entertainment from the Insect Circus and the Tudors on Tour to forest delights in The Dingly Dell and action-packed awesomeness in the Sports Park and Julian Clary & David Roberts and Reginald D Hunter to Kidocracy and the Scummy Mummies, it's been non-stop good times.
2017 live acts:
MADNESS – BRIAN WILSON PRESENTS PET SOUNDS – MARK RONSON – HOLLY JOHNSON – ALL SAINTS – LEFTFIELD – ANNE-MARIE REVEREND AND THE MAKERS – RAY BLK – KATE NASH – RIGHT SAID FRED – LOUISA JOHNSON – SKINNY LISTER – THE BOOTLEG BEATLES – THE CUBAN BROTHERS – BECKY HILL – LOUIS BERRY – MEXRRISSEY – DUB PISTOLS -THE CHRISTIANS – DJ YODA ELVANA: ELVIS FRONTED NIRVANA – THE BLOCKHEADS – LOS PACAMINOS FEAT PAUL YOUNG – T'PAU – THE SKINTS – LAURA OAKES – RAGHU DIXIT – DISNEY RASCAL – THE SMITHS LTD – FLAMINGODS – FUNKY LITTLE CHOIR – INDIAN QUEENS – THE RAJASTHAN HERITAGE BRASS BAND – THE SKA VENGERS