Bestival

View photos from Bestival 2017
It was a brand-new era with Bestival moving from the Isle of Wight to the Lulworth Estate in Dorset. The event was notable for being the last ever gig for A Tribe Called Quest, having the world's biggest bouncy castle, disco ball and confetti cannon, being full of mud and having a temporary arena closure due to high winds. Tragically it was also notable for the death of 25 year old Louella Michie, daughter of actor John Michie (Holby City and Coronation Street).
The xx were the first ever Castle Stage headliners at Bestival. Never anything less than breath-taking, they were a fitting band to get the main stage action underway in Bestival's new home.
The xx said: "Bestival was one of the first festivals we played, back in 2010, and it had always been a dream for us…we even begged to play the previous year. In 2012 we returned to play the main stage and we're so happy to be headlining this year".
Hip-hop heroes A Tribe Called Quest headlined Saturday, performing what was their last ever UK Show.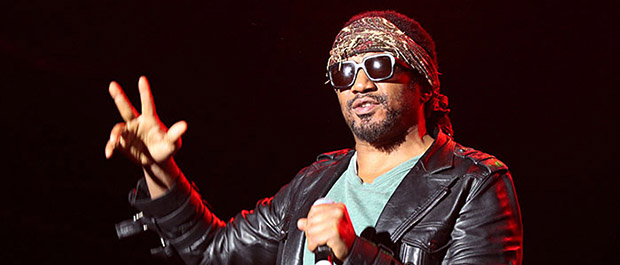 Bringing the debut mainland Bestival to a suitably triumphant close were synth-pop geniuses Pet Shop Boys as the Sunday night headliners.
There was also live music from super suave Gallic funksters Justice, plus, Dizzee Rascal, DJ Shadow, Little Dragon, Danny Brown, Rag'n'Bone Man, Laura Mvula, Soul II Soul, MNEK, Circa Waves, Ray BLK, Lucy Rose, and Charlotte Church's Late Night Pop Dungeon among many, many more.
Bestival's creative essence exploded before your very eyes with a cavalcade of brilliant new stages, incredible destinations and stone cold classics, including the brand new main stage The Castle Stage, the eclectic wonders of The Box, the hands in the air nirvana of Temple, Bestival's heart and soul, Bollywood, and the righteous vibrations of Reggae Roots.
Back by very popular demand was HMS Bestival – the last word in off the hook partying, plus there was dancing like there's no tomorrow in new venues The Frozen Mole and Stacey's, vintage madness at Caravanserai, and Club DaDa, and chilling out in the enchanting Ambient Forest, and at steam punk vision, Oberon's Observatory.
Bestival 2017 was a whole new world to explore with the dazzling delights of The World's Biggest Confetti Canon, Castle Fireworks Finale, the Love-Bot, The World's Biggest Bouncy Castle, Bestival Inflatable Church, Confetti Wedding Disco, The Feast Collective, Slow Motion, Revolution Rides, Carnival Day Parade and Night Parades, the Sugar Skulls Cocktail Bus, Sunday Best Cardboard Record Shop, Lost in the Woods, Ancient Woodlands, Free Haircuts, Campsite Recycling Hubs, Kids' Field and Flags by Angus Watt. There were also 10,000 free apples available from the orchard of Bryan Ferry (yes Roxy Music).
The Line-Up 
THE CASTLE STAGE: The xx, A Tribe Called Quest, The Pet Shop Boys, Justice, Dizzee Rascal, Little Dragon, Rag'n'Bone Man, Wiley, Laura Mvula, Danny Brown, Loyle Carner (set cut short because of high winds), Soul II Soul, Circa Waves, MNEK, Ray BLK, Stefflon Don, Johnny Flynn & the Sussex Wit, The Cuban Brothers
THE BOX: Jamie T, DJ Shadow, Kurupt FM, Blossoms, Lucy Rose, Twin Atlantic, AJ Tracey, Charlotte Church's Late Night Pop Dungeon, Bomba Estereo, Fakear, DJ Yoda, U-Roy, Romare, Sinkane, Tash Sultana, Clean Cut Kid, Bjarki, Alma, Hypnotic Brass Ensemble, Formation, Let's Eat Grandma, Cakes da Killa, 67, London African Gospel Choir performing Graceland, Skinny Girl Diet, HMLTD, Lost Colours, Hackney Colliery Band (no set because of weather), The Greasy Slicks, Park Hotel, The Smiths Ltd, Disney Rascal
TEMPLE: Annie Mac, Andy C presents 25 Years of RAM, – Andy C, Calyx & Teebee, Culture Shock, DC Breaks & MC's Tonn Piper, Carasel & 2Shy, Maceo Plex, Jackmaster, Kolsch, Heidi, Agoria, Dusky, Patrick Topping, Solardo, Monki, Melé, Raindance: Rat Pack, Slipmatt, Billy Daniel Bunter, Uncle Dugs, Jungle Fever: Brockie & MC Det, Jumping Jack Frost, Ragga Twins, Funky Flirt, Shockin B, Eastman Sound, Ruddy RanksJasper James, Avalon Emerson, Willow, Jem Haynes
BOLLYWOOD: David Rodigan presents RAM JAM – Special Guest TBA, Preditah, Conducta & MC Creed, Venum Sound Toddla T presents Carnival, Teklife showcase – DJ Spinn, DJ Taye, DJ Paypal & Teklife Dancers, Fatman Scoop, Midland, Sam Gellaitry, Shanti Celeste,
Job Jobse, Barely Legal, Nightwave, Smerz, The Rhythm Method, Zoee, Anna Wall,
Karaoke Glitter Rave, Martha, Tayo, Rajasthan Heritage Brass Band
INVADERS OF THE FUTURE: Honeyblood, Black Foxxes, Mr B The Gentleman Rhymer, Chastity Belt, The Magic Gang, Sean McGowan, The Tuts, TRAAMS, Dead!, Barns Courtney, Tom Walker, Dan Caplen, The Rising, The Showhawk Duo, Swan Levitt, Upstarts, Coco and the Butterfields, Vistas, The Du-Rell Family, Lewis Bootle, Fours, Wild Front, Jodie Abacus, Shama Rahman Band, Ecurbrekal, Nakamarra, Compton White, Brandon Rivers, Graceland, Route2Roots, Freazy, Eton Girls Choir, Ian Easton & The Widowmakers, Jarrod Dickenson
REGGAE ROOTS: Roots Manuva, Mad Professor Trojan Sound System,
Nice Up Presents Daddy G, Star.One, Shepdog, Ghost Writerz, Reggae Roast & MC Natty Campbell, DJ Dapper Dan
HMS BESTIVAL: Sink the Pink, Buttmitzvah, Hard Cock Life, Heartless Crew
DJ Luck & MC Neat, Oxide & Neutrino & Matt Jam Lamont, Dazed takeover; Mykki Blanco, Octo Octa & Eclair Fifi, Jaguar Skillz, Drag Queen Bingo
THE FROZEN MOLE: Artwork Presents Art's House, Slaves (DJ Set), Purple Rave,
Cirque Du Soul DJs
STACEYS: Mr Scruff, Craig Charles Funk & Soul Club, South London Soul Train
CARAVANSERAI: 47Soul, The Turbans, My Baby, Flamingods, New York Brass Band, Swing Patrol, Fandjango,
CLUB DADA: The Ska Vengers, Smoove and Turrell, K.O.G. and The Zongo Brigade, Kuenta I Tambu,
AMBIENT FOREST: Chris Coco, Pete Gooding, Mixmaster Morris,
OBERON'S OBSERVATORY: Cut A Shine
Related:
Radio 1 End Their Summer of Festivals at Bestival
Bestival 2017s Invaders of the Future competition is now open