Mum's Christmas Appeal for Julia's House
Published on 7th December, 2015
in
Uncategorized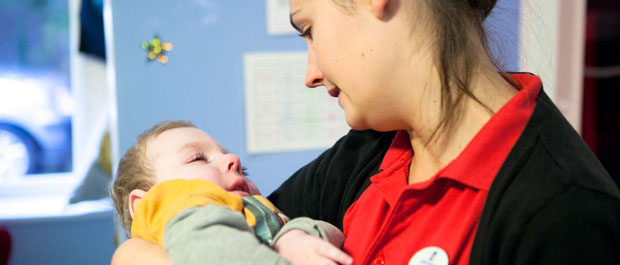 The mum of a brave little boy who died as a result of a rare genetic disorder is appealing for people to support Julia's House this Christmas in memory of the care he received from the charity.
Samuel Monk's condition meant he suffered from seizures that were frequent and often severe. He wasn't expected to survive until his first birthday, but proved to be a real fighter.
Now, on the first anniversary of Samuel's death, mum Zoe has paid tribute to the support the whole family received from Julia's House by telling her story for its Christmas appeal.
Zoe said: "He gave us four years – four birthdays, four Christmases. And that was more than we had ever hoped for. The four years we had with him were so precious.
"We can't buy Samuel presents now so this appeal is the next best thing. I hope this Christmas people will remember Samuel and all the brave, special children who have to endure so much every single day."
Zoe is hoping the money raised will support more families like hers who would struggle to cope without the practical and emotional help of the Dorset and Wiltshire children's hospice charity.
Julia's House nurses and carers looked after Samuel at the hospice and at his home in Corfe Mullen where he received regular respite. Zoe, her husband Chris and Samuel's little brother Toby also joined many of the social events organised for families.
"Julia's House were there for us right from the start – and were there for us at the end.
"I hate to think what life would have been like without Julia's House," said Zoe. "The isolation would have been unbearable. When you have a very sick child you spend an awful lot of time at home, unable to go anywhere or see anyone.
"Julia's House was such a crucial part of our world when Samuel was here. It was so important to us that Samuel went to Julia's House after his death. "
In her appeal Zoe describes how the nurses and carers read stories and played music to Samuel and made prints of his hands and feet as keepsakes.
"The nurses cared and nurtured him after he passed away and continue to hold our hands even now. Julia's House was part of our family and will always be special and important to us."
Read more of Zoe's moving story or make a donation at www.juliashouse.org/Samuel