Monarch's Way in Dorset
Published on 12th February, 2015
in
Uncategorized
The Monarch's Way is a 615-mile long-distance footpath that approximates the escape route taken by King Charles II in 1651 after he was defeated in the Battle of Worcester. It runs from Worcester to Brighton and part of the route runs through Dorset.
The Monarch's Way in Dorset
King Charles II was desperate to escape from England to France and his supporters suggested Charmouth as a possible place to find a passage. The King had already tried to find a ship in Bristol, but it was too well guarded by Cromwellian forces.
One of the King's supporters Colonel Wyndham knew of two Merchants in Lyme (Regis) who he thought were sympathetic to the Royalist cause. He contacted Captain Ellesdon, who was keen to take on the task, arranging for passage on Captain Limbry's ship which under the cover of darkness would meet the King at Charmouth. A longboat would be sent to pick up the King at midnight from Charmouth beach. The King took accommodation in Charmouth and all seemed well.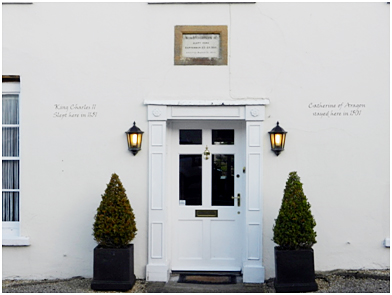 The boat didn't arrive. Captain Limbry's wife was a strong Presbyterian. She had heard rumours that the King was in the vicinity and so was suspicious when she heard of Limbry's sudden trip. She locked him in his room and would not let him out.
The King and his party had no choice but to set out for Bridport. At the same time one of the King's men aroused suspicions while having his horse shod, the keen eyed blacksmith realised that the shoes he replaced were not a local type. He contacted a Cromwellian Captain Macy who set off immediately to Bridport just a few minutes after the King had left. The King was originally aiming for London, but the story goes that he got lost. He and his supporters only knew the route to Trent so he turned north along a small track. This track is commemorated with a stone.
Just a few minutes after the King took this turning Captain Macey arrived, but followed the road to London, missing the King by a few minutes. As the King had very few men with him, he would have been very easily captured and then executed by Cromwell who had a bounty of £1000 on the king's head.
Good luck and fortune was with The King that day.
The King continued to Broadwindsor, where he stayed at the George Inn, on 23 September 1651. The sign is on a house rebuilt on the site after a fire in 1856 destroyed the original George Inn.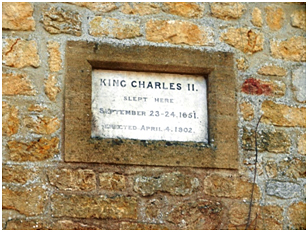 A troop of Roundhead soldiers arrived at the George Inn and once again King Charles was in danger however fortune played its part again, as Roundhead camp follower went into labour allowing the King to escape unnoticed. He passed through Winyard's Gap (Cheddington) and then on to Somerset.
To find out about the full length of the path see http://www.monarchsway.50megs.com/