First Swanage Fish Festival a great success
Published on 10th June, 2015
in
Uncategorized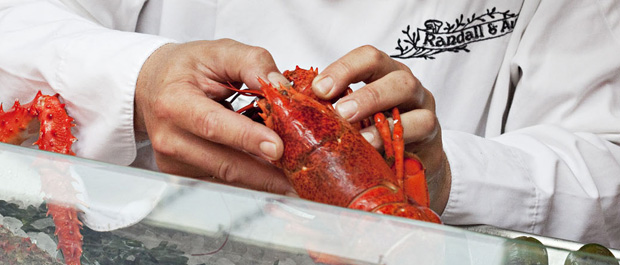 From learning how to canoe a bass to discovering which local seaweed was good enough to eat, there were plenty of skills to pick up. The picturesque Prince Albert Gardens drew a huge crowd eager to catch demonstrations, sample local fishy delights, browse the stalls and soak up the festival atmosphere.
Ed Baines provided great entertainment for onlookers, cooking sumptuous spider crab and serving up tips on how to catch one yourself. Ed said: 'We're so fortunate, the setting is phenomenal here in the amphitheatre overlooking Swanage bay, with beautiful sunshine. Everyone enjoyed it including me'.
Local chef James Golding from The Pig on the Beach and forager Dan Scott from Fore Adventure created a perfect double act, advising on how to forage delicious seaweed and which appetising local fish to pair it with.
Saturday carried on late into the evening with live music from the aptly named Kelp!, Nicole Faraday, Red River Hogs and The Reptiles. The striking tone of the Wareham Whalers on Sunday provided the crowd with sea shanties to complement their oyster lunch.
Katharine Wright from, festival sponsor Dorset Food & Drink, said: "It
wasn't difficult for us to see the potential of this event; we wanted to support a local sustainable fish festival for the Isle of
Purbeck, bringing in people from across Dorset and further afield. This event was a huge success!"
Caroline Finch, one of the festival organisers said: "We were overwhelmed with the response from visitors. Our traders did extremely well and local businesses benefited from the influx of people. Many traders sold out of stock on both days and some have already signed up for next year. This
wouldn't have been possible without the help of our sponsors and volunteers who I would like to say a huge thanks to. We can't wait to put on an even better performance next year, see you at Swanage Fish Festival June 2016!"
To find out more about sponsorship,trading or volunteering at next year's festival please email info@swanagefishfestival.org.