Chelsea Flower Show 2016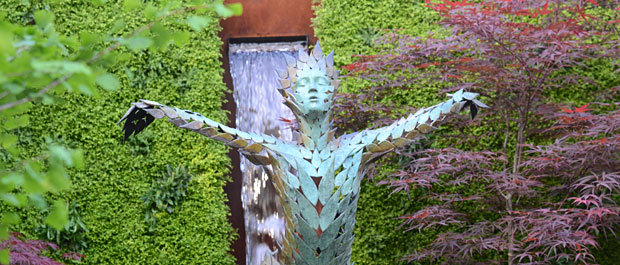 Sculpture by the Lakes
Simon Gudgeon from Sculpture by the Lakes was again exhibiting his work. It featured three new pieces including a life sized ballerina, Celeste, made from around 1,000 bronze leaves.
Celeste was inspired by working with English National Ballet principal ballerina Ksenia Ovsyanick, who was at the unveiling of the sculpture. The sculpture's delicate lattice work created by the bronze leaves adds to the ethereal quality of the piece, giving it the elegance which reflects the fluidity of the ballerina as well as the beauty of her performance.
As well as Celeste, there were a further nine major outdoor sculptures by Simon, each integrated into a planting scheme designed by his wife Monique.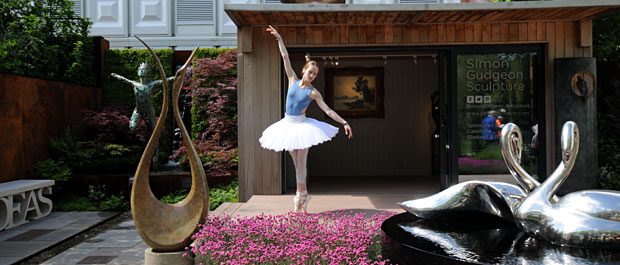 Jardin Blanc
Sitting Spiritually had the honour of their Yakisugi Swing seat being part of Raymond Blanc's hospitality garden, Jardin Blanc.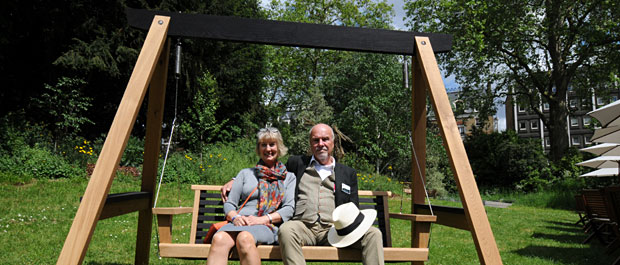 Guests entered Jardin Blanc through a set of concentric planted circles that frame a French style ornamental vegetable and kitchen garden filled with herbs, vegetables and wildflower beds, all carefully curated by horticultural experts and previous gold medal winners at the RHS Chelsea Flower Show. Hidden amongst the shrubbery you could hear recordings of stories and poems recited by Raymond Blanc OBE.
Stone balancing
At this year's RHS Chelsea Flower Show stone balancing artist and former Lyme Regis resident Adrian Gray exhibited the world's largest – weighing in at 14 tons and more than 5 metres tall. The sculpture, made of two Bodmin granite boulders, was originally created in November 2015 on Bodmin Moor and is called 'Trust in Nature'. Adrian was performing live balancing to demonstrate the creation of new sculptures.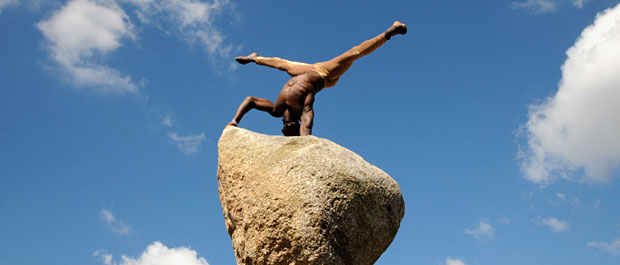 Posh privies
With a shower, wash basin and flushable toilet, the new Plankbridge Privy, which launched at this year's RHS Chelsea Flower Show, brought a contemporary outdoor lavatory and washroom to the garden. Inspired by the Victorian privy, a common feature of many gardens right up until the 1950s, the Dorset-based master hutmaker has designed the Plankbridge Privy to be in keeping with its classic Victorian style shepherd's hut, with a curved corrugated roof and iron clad exterior.
Richard Lee, co-owner and founder of Plankbridge, said: "We've read so many stories about the old Victorian privies while developing this new product and it's clear that people have a great deal of affection for the little buildings that they once had to dash out to when nature called. While the traditional privy was moved inside many years ago, the Plankbridge Privy is designed to allow people to extend their living space into the garden even more, so RHS Chelsea Flower Show seems like the perfect place to unveil it."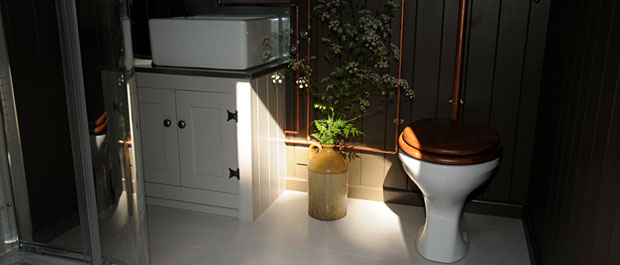 Product of the Year
Twelve finalists competed for the title of RHS Chelsea Garden Product of the Year 2016. The products were shortlisted from a number of entrants, all of whom are exhibiting at this year's show. Entries were judged on a number of criteria, including innovation, functionality, visual appeal, quality, value for money and environmental sustainability.
Two of the twelve were based in Dorset:
Burgon & Ball – Poc-kit
Gardeners can keep everything to hand with the Poc-kit, designed to hold all items you would normally put in your trouser/jacket pockets, letting you garden in comfort.
Sitting Spiritually – The Floating Bench
This outdoor bench in textured, scorched (using the Japanese technique of Yakisugi) and natural solid oak plays an optical trick – the back rest and arms appear to float. It is part of the new Simon Thomas Pirie collaboration Sitting Spiritually, we were well and truly hooked.  Contemporary furniture maker and public artist Simon Thomas Pirie's workshop is in Bere Regis.
View photos of Chelsea Flower Show 2016
Where to see Dorset's trade stand exhibitors:
Sculpture by the Lakes, Dorchester
Site Number: MA433
Sitting Spiritually Ltd, Lyme Regis
Site Number: RHW369
The Wildlife Trusts, Parkstone
Site Number: EA532
Town & Country Antiques, Bournemouth
Site Number: AR685
Backdoorshoes, Christchurch
Site Number: EA549
Burgon & Ball Ltd, Poole
Site Number: CW410
Fantails, Swanage
Site Number: SR306
Kiraku, Shaftesbury
Site Number: SR260
Plankbridge Ltd, Dorchester
Site Number: AR723
Plooms & Blooms, Gillingham
Site Number: EA443
Robert James Workshop Ltd, Bridport
Bronze Garden Sculptures, Water Features and Miniatures
Site Number: SR289
Stone Balancing
Site Number: FR342