Chelsea Flower Show 2015
Dorset exhibitors at Chelsea 2015
Sculpture by the Lakes, Dorchester
Site Number: WA10
Bronze sculpture by Simon Gudgeon
Sculpture by the Lakes, Dorset, are exhibiting at RHS Chelsea Flower Show 2015 for the first time this year. New and iconic works by renowned British sculptor Simon Gudgeon are integrated into a planting scheme which has been designed to reflect the natural and wild garden at Sculpture by the Lakes.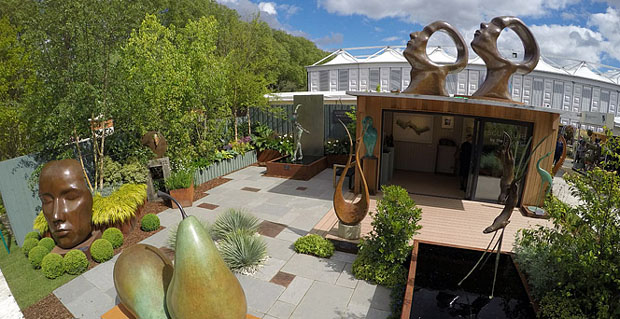 Just as in the sculpture park, the planting palette is structured around the sculptures and designed to complement and enhance Gudgeon's work. The plants will include 'Green and Shady' trees, shrubs and grass or herbaceous perennials which prefer moist and shady conditions, as well as specimens which thrive in drier soils and more sunshine, 'Green and Sunny' specimens.
The Green and Shady trees are seen all around the lakes in Dorset including River Birch, Silver Birch and Freeman's Maple. Large specimen's such as Giant Rhubarb (Gunnera manicata) are offset with Perennials and underplanting such as Flag iris (Iris pseudoacorus) and Elephant-eared saxifrage (Bergenia, purple leaved varieties).
The Green and Sunny planting also follows the natural palette of Gudgeon's sculpture. Large specimens include a Snowy Mespilus tree (Amelanchier lamarkii) and several specimens of shrub Japanese Mock orange (Pittosporum tobir).
Highlights on display include Lyrebird, Kingfisher and Sylph, as well as the iconic Isis and Search for Enlightenment, placed at Hyde Park and Carriageway Drive, respectively. There will also be several new works by Gudgeon including Diving Otters, Green Tunnel, Aurora and Nevermore.
Also featured on the stand is Gudgeon's first large sculpture Thoth, titled after the Egyptian God of the moon, wisdom and magic, Pears from his series Fruit, Dancing Cranes inspired by the so called 'Bird of Happiness' and the figurative sculpture Tree Spirit. Others include Barn Owl, Ephemera, Reclining Hare and Hummingbird.
Inspired by the movement and fluid lines of birds, animals and the human form, Gudgeon transforms classic subjects into beautiful flowing bronze sculptures for gardens, parks and urban outdoor spaces.
Simon Thomas Pirie had a beautiful bench on the stand too. Made of native scorched and natural oak the design was the garden 'off shoot' of a large scale public artwork we did outside Waitrose in Tudor Arcade, Dorchester – this was a curved 12 metre long version in the shape of a question mark with various chairs and benches built into its length.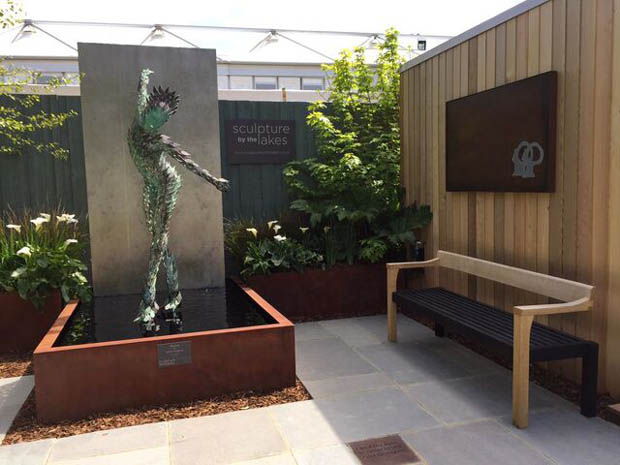 Floating Bench was picked up by Liberty's as part of their Outdoor Living Collection and described as a 'design classic of the future' by the Independent Weekend Magazine last summer.
Sculpture by the Lakes received a Five Star Tradestand Award from the Royal Horticultural Society.
Adrian Gray, Lyme Regis
Site Number: FR11 in the Fresh Fields area
Adrian Gray, the pioneer of stonebalancing art has a large stand. He has been creating the art forms for over a decade. Adrian said "It can be said that each sculpture has a presence and in its balanced state can be mesmerising, puzzling and awe-inspiring."
His new book 'The art of stonebalancing' is available.
Plankbridge Ltd, Dorchester
Site Number: PLW1
This year the shepherd's hut makers took a micro-kitchen inside a shepherd's hut to encourage gardeners, foragers and cooks to enjoy produce at its absolute freshest.
Lucy Simpson, who manages Poundbury Gardens grew blueberry shrubs, borage and mint to use in the garden.
There are plenty of other Dorset companies in the tradestands including:
Backdoorshoes, Christchurch
Site Number: EA63
Fantails, Swanage
Site Number: PW31
Forever England, Sherborne
Site Number: MR4
Klara Home & Garden Ltd, Poole
Site Number: EA92
Robert James Workshop Ltd, Bridport
Site Number: SR41
Sitting Spiritually Ltd, Lyme Regis
Site Number: MW5
Town & Country Antiques, Bournemouth
Site Number: MR8
Floral Design Studio
Bere Regis Floral Group had a display at FA1/1 Tuesday and Wednesday only.
Neil Lucas from Knoll Gardens was judging some of the gardens.
View photos of Chelsea Flower Show 2015