Dorset host Extreme E season 1 finale
Extreme E, the sport for purpose electric off-road racing series, has its Season 1 finale, 'the Jurassic X Prix' in Bovington on 18-19 December 2021.
Alejandro Agag, Extreme E Founder and CEO, said: "I'm very excited by this race location – our first event on UK soil. This move is a poignant shift in our mission to race in remote, far-away places to highlight the effects of climate change, as more increasingly, the issues we talk about are literally happening in our backyards so it felt like the right time to bring the spotlight home, and help the army reduce its own carbon footprint.
"I'm very excited by this race location – our first event on UK soil"

Alejandro Agag, Extreme E Founder and CEO
"The world needs to move forward when it comes to the combustion engine and many other practices, and what better way to symbolise that than with a Jurassic themed X Prix. Unless we push forward with climate and sustainability action, certain species risk becoming extinct, and that is something we simply cannot ignore any longer." Bovington is a well-known British Army military base and sits just off the Jurassic Coastline. Extreme E is working closely with the British Ministry of Defence and Army which has recently revealed its climate change and sustainability strategy. The strategy combines the mitigation of environmental impact whilst maintaining military output. It aims to do this by reducing emissions and scaling up the transition to renewables, thus contributing to the UK's aim to be net zero by 2050. Efforts have started already with the Army piloting electric armoured vehicles and carbon efficient accommodation.
Bovington, Dorset
Major General Simon Hutchings OBE said: "The British Army prides itself on its ability to conduct operations in all environments, adapting and developing its skills as required. The opportunity to work alongside Extreme E who are world leaders in electrification of vehicles and sustainable energy production is very exciting. It will enable us to share innovative ideas which will allow the Army to continue to gain technology advantage globally, whilst also contributing to our climate and sustainability targets."
The racing will be as exciting as ever with a course designed to include natural obstacles putting the all-electric ODYSSEY 21 through its paces to crown the eventual winning combination of car, team and driver. Each team fields both a male and female driver who will complete a lap each with a Driver Switch built into the format. With points up for grabs throughout the race weekend, some of the best drivers in the world plus the instant speed of all-electric mobility, the concluding X Prix is set to be a showstopper.
JBXE Team Principal
Jenson Button, JBXE Team Principal said: "It is brilliant news that Extreme E's Season finale will be held in the UK. I've been lucky enough to race on UK soil a number of times throughout my career and those memories will always be incredibly special to me.
"Heading off-road at Bovington will be a totally different experience but equally as special as I'll be the one watching and supporting Kevin and Mikaela and the rest of the JBXE team as we push for a strong finish to the season. After back-to-back podiums, if we can carry that form into Sardinia and put ourselves in the mix for the final race then we could be in store for an amazing finish!"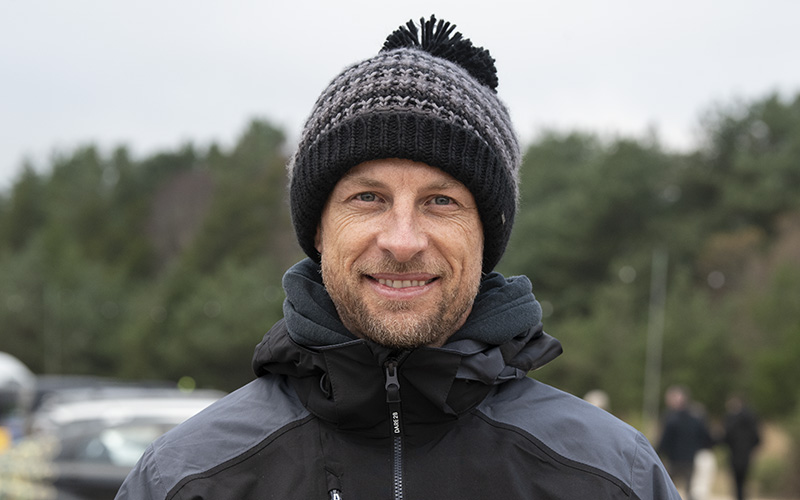 The course
A mixed surface of clay, sand, gravel, and mud dominates the course in Dorset, making grip, or the lack of it, a key feature for the first time this season. With rain always likely in the UK in December, the course in Dorset should be a formidable test of the driver's throttle control as they search for that all important grip.
A fast downhill start will allow for multiple cars running side by side with some tight fought battles as drivers consider their Hyperdrive strategy here. Decisions will have to be made quickly as the wide-open space soon narrows into two tight left and right 90-degree turns. A second expanse offers another opportunity for Hyperdrive before once again becoming a bottleneck, narrowing down to single car width along the tree-lined course.
A long, uphill right-hand turn follows, with the expectation that the ODYSSEY 21 will be drifting sideways throughout before greeting a short jump that marks the start of two long, fast straights. As the cars venture towards the farthest point of the course, looming into view will be the most striking feature of the X Prix.
The 5.4-metre-high 'Knife Edge' demands respect as the drivers approach it head on. With a 23-degree slope, go too slow and it will mean losing precious time, but go too fast and it could end up being a bumpy ride.
With only a quarter of the course remaining, there are still crucial strategic choices to be made as the cars head across the last open area. This could be the final opportunity to use Hyperdrive and steal track position on the fast downhill.
The undulating course then splits and offers two parallel uphill chutes. Left or right, drivers will make their choice and hope it proves the right one as the finish line of the final X Prix of Season 1 looms just over the top of the hill.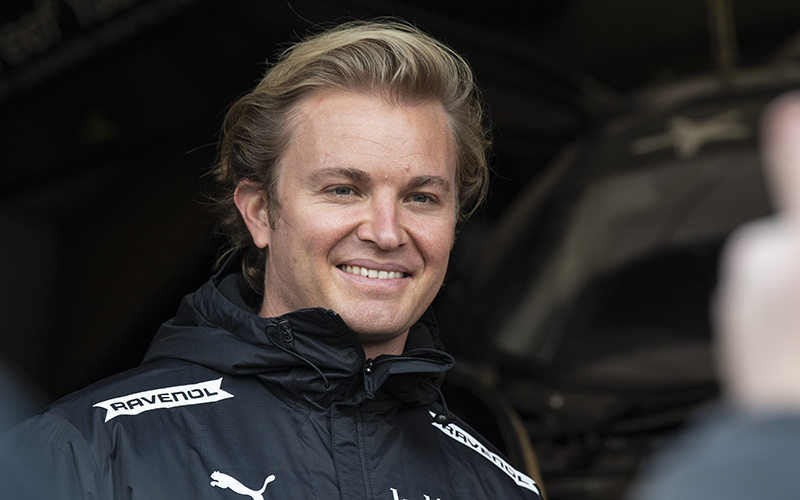 Championship standings going into the final race
1. ROSBERG X RACING
Molly Taylor / Johan Kristoffersson – 129PTS
2. X44
Cristina Gutiérrez / Sébastian Loeb – 113PTS
3. ANDRETTI UNITED EXTREME E
Catie Munnings / Timmy Hansen – 93PTS
4. JBXE
Mikaela Åhlin-Kottulinsky / Kevin Hansen – 92PTS
5. ABT CUPRA XE
Jutta Kleinschmidt / Mattias Ekström – 83PTS
6. ACCIONA | SAINZ XE TEAM
Laia Sanz / Carlos Sainz – 78PTS
7. SEGI TV CHIO GANASSI RACING
Sara Price / Kyle Leduc – 63PTS
8. VELOCE RACING
Lance Woolridge / Jamie Chadwick – 60PTS
9. XITE ENERGY RACING
Christine Gz / Oliver Bennett – 55PTS
The Sporting Format
The Jurassic X Prix continues to follow the same format as the previous two races, with qualifying taking place on Saturday 18 December. There will be one session in the morning and one in the afternoon with each team completing the course with a Driver Switch incorporated. The times recorded across the morning session will equate to classification points meaning first place receives nine points, second place eight, third place seven and so on. The same then happens in the afternoon with classification points awarded on the same scale.
The combined total of these classification points provides the intermediate standings, and the remaining races will take place as follows:
The teams will be listed 1st to 9th place based on the total combined points of each team's two Qualifying runs.
Teams placed in first, fifth and sixth progress to Semi-Final 1, where the top two finishers claim spots in the Jurassic X Prix Final.
Second, third and fourth from Qualifying go through to Semi-Final 2, where again the top two progress to the Jurassic X Prix Final.
The bottom three teams (7th, 8th and 9th) head to the Crazy Race, with the winner reaching the Jurassic X Prix Final.
The Jurassic X Prix Final features five cars.
The 'Continental Traction Challenge' was won by Sébastien Loeb at the Enel X Island X Prix, claiming an extra five points for the X44 team. No doubt teams and drivers will be striving for these extra points in Dorset.
GridPlay
The GridPlay vote, which puts fans in the driving seat, will open at 0900 GMT on Wednesday 15 December and close at 1700 GMT on Saturday 18 December.
Where to Watch
As with all Extreme E races, spectators are not able to attend as part of the championship' goal to reduce its event footprint, but are able to follow the action from the comfort of their homes by watching the races through a host of global broadcasters .
Shakedown and qualifications will be aired through Extreme E's official website and social channels (@extremeelive on YouTube, Instagram, Facebook, Twitter and Twitch).
The Finals will be shown in more than 200 countries by 85 broadcasters including ITV, Sky Sports, BBC digital channels and BT Sport in the UK,  FOX Sports in the USA, Prosieben MAXX in Germany, Mediaset in Italy as well as Eurosport across most European Markets and the Virtual FanWorld.
Friday 17 December 1900 – 1930 GMT Shakedown airs on website and social channels
Saturday 18 December 1000 – 1200 GMT Qualifying Round 1, 1300 – 1500 GMT Qualifying Round 2
Sunday 19 December, 1000 – 1130 GMT Semi Finals, 1200 – 1400 GMT Final
Race to Zero campaign
Extreme E is a partner to the UN's Race to Zero campaign as well as Count Us In, which challenges its fans to take steps which reduce their own carbon footprints. These collaborations are all focussed on tackling the global climate crisis and with road transport currently accounting for 75 per cent of the global emissions associated with transportation, accelerating the move to clean mobility by 2030, in line with government goals, is key to success.
Nigel Topping, UK High Level Champion for Climate Action at COP26, who also leads Race to Zero, said: "Extreme E provides an incredible platform for accelerating the clean mobility transition and driving awareness for the climate solutions we can, and must all adopt.
"The Jurassic X Prix follows COP26 and provides further opportunity for the UK to keep crucial momentum, which is imperative if we are to succeed in our goal to limit global temperature rise to 1.5C. The shift to zero emission vehicles will hugely help reach that goal and Extreme E demonstrates the capabilities of electric vehicles, but also their associated technologies. It also uses the powerful platform of sport to engage its fanbase to take steps to reduce their own carbon footprint." Extreme E will continue with its Legacy Programme format which aims to leave long-lasting positive impact in each country in which it races, with exact details to be revealed in the weeks leading up to the end of year event. Not only that, the thought leadership workshops are set to continue, and will be available to view online after the event.
Extreme E in numbers
5 races
9 teams
18 drivers
4 continents
5 countries
Related