Dorset Knob Throwing Festival 2012
Published on 8th May, 2012
in
Event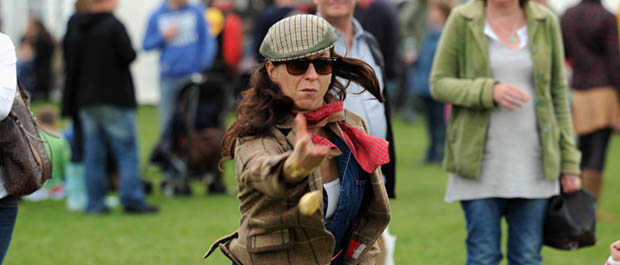 Records were smashed as the 5th Dorset Knob Throwing Festival got under way in Cattistock on Sunday.
Competitors were tasked with throwing the small Dorset biscuits as far as possible.
Max Nuttall from Weymouth, set a new record in the under 12's category with a distance of 22.55 metres, beating the 2009 record.
In the women's competition, Kelda McNeill set a new record by  throwing her knob 26.45 metres, and in the men's competition Dave Phillips lobbed his knob 29.4 metres, convincingly beating the previous record of 26.1 metres.
In the other big competition of the day, Stuart Lambert of Charminster won the accolade of champion knob eater by munching his way through14 cider dunked biscuits in one minute. This time there was no record and the knob eating record still stands at 16!
There was further knob themed fun at the festival including knob painting, 'pin the knob on the Cerne Abbas Giant', a knob and spoon race, guess the weight of the knob, knob shooting and a knob pyramid.
Money raised from the festival will be divided between Cattistock football and cricket clubs, Savill Hall and a children's play area.