Dippy in Dorset
Published on 2nd January, 2017
in
Uncategorized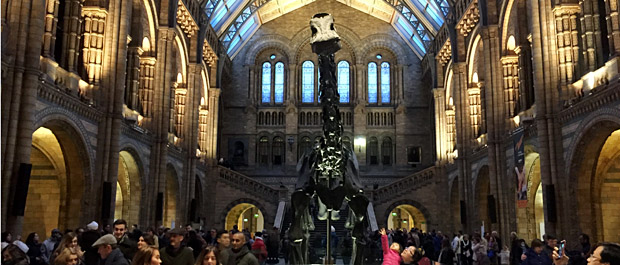 The Natural History Museum's famous Diplodocus, known as Dippy is touring the UK from early 2018.
Dippy is a 21-metre-long and four-metre tall skeleton cast and he is coming to the Dorset County Museum's Victorian Hall in Dorchester where his UK tour Dippy on Tour: A Natural History Adventure starts.
Director of the Dorset County Museum, Dr Jon Murden, said: "We are so excited to be welcoming Dippy on Tour here in 2018 at the heart of the Jurassic Coast World Heritage Site. As the birthplace of palaeontology, there is nowhere in the UK more appropriate for Dippy to start the tour than Dorset."
It's free to see him and he's in Dorchester from 10 February to 8 May 2018.
Dippy on Tour will be the last temporary exhibition to be hosted by Dorset County Museum before they close certain sections of the galleries for a major refurbishment. When the Museum reopens in 2020, it will be a world-class contemporary museum and exhibition space, complete with new galleries, a learning centre, collections storage, library and visitor facilities including a café and shop.
Dippy
The skeleton plaster-cast of Dippy was presented to the Natural History Museum by industrialist Andrew Carnegie in May 1905.
The cast is a composite of several diplodocuses. It was inspired by the discovery of a near-complete original skeleton in Wyoming in 1899. Carnegie acquired the bones for his museum in Pittsburg, and when scientists discovered it was a previously unknown species of diplodocus it was named after him: Diplodocus carnegii.
Dippy would have lived about 150m years ago, in the late Jurassic period. The dinosaurs were vegetarian and grew to 30 metres long and weighed 15 tonnes. They are one of the largest creatures ever to have walked the earth.