Death Defying Displays At The Great Dorset Steam Fair
Published on 18th August, 2015
in
Event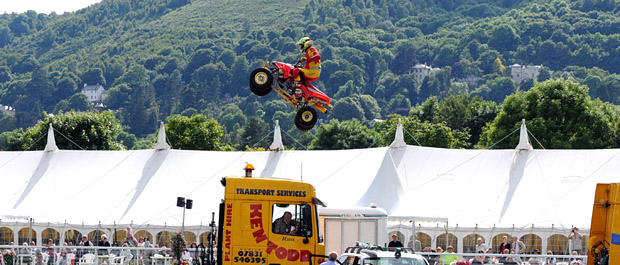 Organisers of the Great Dorset Steam Fair have announced one of the most prolific stunt riders in the world as part of the entertainment on offer at the event, which runs from 2 – 6 September.
Matt Coulter aka "The Kangaroo Kid" from Brisbane, Australia, has entertained millions of fans across the globe with his unique shows, blending gut wrenching quad bike stunts with theatrical showmanship.
He has performed some of the most dangerous jumps possible, breaking records and performing stunts that were once the preserve of legends such as Evel Knievel. His many T.V. appearances include 'You Bet', 'Great Escapes', 'The Big Breakfast', 'Don't Try This At Home' and 'Guinness World Records'.
The act includes stunts using a quad-bike specially fitted with a roll cage and finishes with a spectacular jump over anything that is put in their path, be it cars, trucks or tractors (Matt has even jumped a flying aeroplane).
Using a microphone in his helmet that is linked to the show's main PA system, the Kangaroo Kid will keeps the crowd informed with witty commentary, while displaying incredible skill and agility manoeuvring his selection of quad bikes around the stunt arena.
Martin Oliver, Managing Director of the Great Dorset Steam Fair, says: "Our stunt displays always prove very popular at the show and we can't wait to see The Kangaroo Kid wow the crowds. We also have Big Pete Monster Trucks returning this year so there will be no shortage of live action entertainment in the stunt arena."
For 2015 Matt has teamed up with long time fan and good friend, Paul Hannam, to bring a brand new show to the UK show circuit. Paul first saw The Kangaroo Kid when he was seven years old during a visit to an agricultural show and became a huge fan. After 6 years as an instructor, Paul started racing quads at the age of 21 and became South West Enduro Champion.
Paul says: "It is a dream come true to be offered this opportunity and I really appreciate the faith Matt has in me. I am really looking forward to being part of the team and meeting Kanga fans at the Great Dorset Steam Fair".