Buy a piece of the Gold Medal Winning RNLI Garden from RHS Chelsea Flower Show
Published on 31st May, 2022
in
RHS
Plants from Chris Beardshaw's stunning RNLI show garden at RHS Chelsea, part of the new Project Giving Back initiative, will be on sale to the public on Friday 3 June, 10am to 4pm to fundraise for the lifesaving charity.
The sale will give a second life to the mature, show quality plants used in the garden, whilse stocks last. On offer at greatly reduced retail prices, the perennial plants will give buyers the opportunity to purchase their very own piece of Chelsea to enjoy in their gardens for years to come, with all proceeds going to help support the lifesaving work of the RNLI.
The event will be held at the RNLI College, West Quay Road, Poole, Dorset, BH15 1HZ.
Working primarily with Kelways Plants, Chris' plant choices included peonies, geraniums, iris, hostas and ferns, in a soft palette of whites, blues and purples. The garden was designed to be calming and detailed but deliberately reserved to echo the calm and understated nature of the RNLI crew at work.
Some very large structural plants will be included in the sale, so buyers should bring suitable transport for their purchases.
Award-winning plantsman and designer, Chris Beardshaw said: 'As a life-long supporter of the RNLI, it was a huge honour to design and create a garden for this lifesaving charity.
'I'm thrilled that all the elements of the garden, including the plants, will go on to enjoy a second life and legacy outside of the RHS Chelsea Flower Show while continuing to support the RNLI's lifesaving mission.'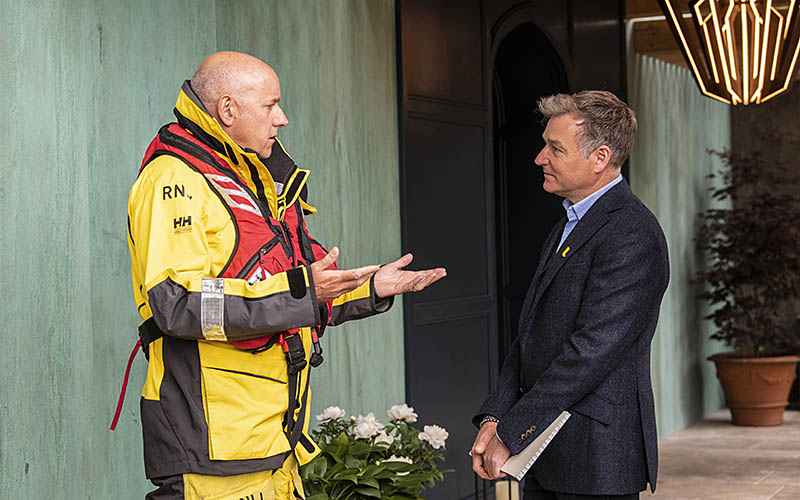 Jayne George, RNLI Fundraising, Marketing and Media Director, said: 'The plant sale provides us with the opportunity to give these wonderful plants a second life while fundraising for our lifesaving charity, thanks to the Project Giving Back initiative.
'Chris's gold-winning design truly embodied the spirit and ethos of our charity. It has been a wonderful opportunity for us to raise awareness of our lifesaving work while also highlighting the RNLI's rich heritage.
'We hope the plant sale will also encourage gardeners everywhere to host a fundraising garden party or other event for the RNLI as part of our forthcoming RNLI Gardens campaign.'
RNLI Gardens is the RNLI's new summer fundraising campaign that invites supporters to host a garden party, BBQ or afternoon tea in aid of the charity's lifesavers. Help save lives this summer while raising a glass for our volunteers. Visit RNLI.org/GardenFundraiser to find out more.
For more information about the RNLI Garden at RHS Chelsea Flower Show visit: RNLI.org/Chelsea.
For more information on the plants, subject to availability, visit RNLI.org/PlantList.